Winterfest is a full weekend of winter fun in Grand Haven, Michigan during the last week of January. The snow is upon us, and with Michigan's winters being long and cold, this is a perfect time to get out and be active. There are plenty of activities to keep everyone warm and having a great time.
Winterfest began in 1976, formed a 501c3 non-profit in 1979, and has grown into a big event along the West Michigan shoreline. This is an interactive festival with many participants getting involved from the very young to the old. Activities are indoors as well as outdoors.
Drop off the sled, the dog, the kids, the neighbor's kids, whatever you don't feel will fit on a shuttle and then park and catch a ride. Don't have a sled or dog? Simply park anywhere near any of the downtown pickup spots.
The Shuttle runs Saturday 9:00am to 2:00pm through downtown to Mulligan's Hollow, the YMCA, and back. The Harbor Transit buses will be making a continuous loop so one is just around the corner!
FREE! Just flag down a shuttle anywhere on the route.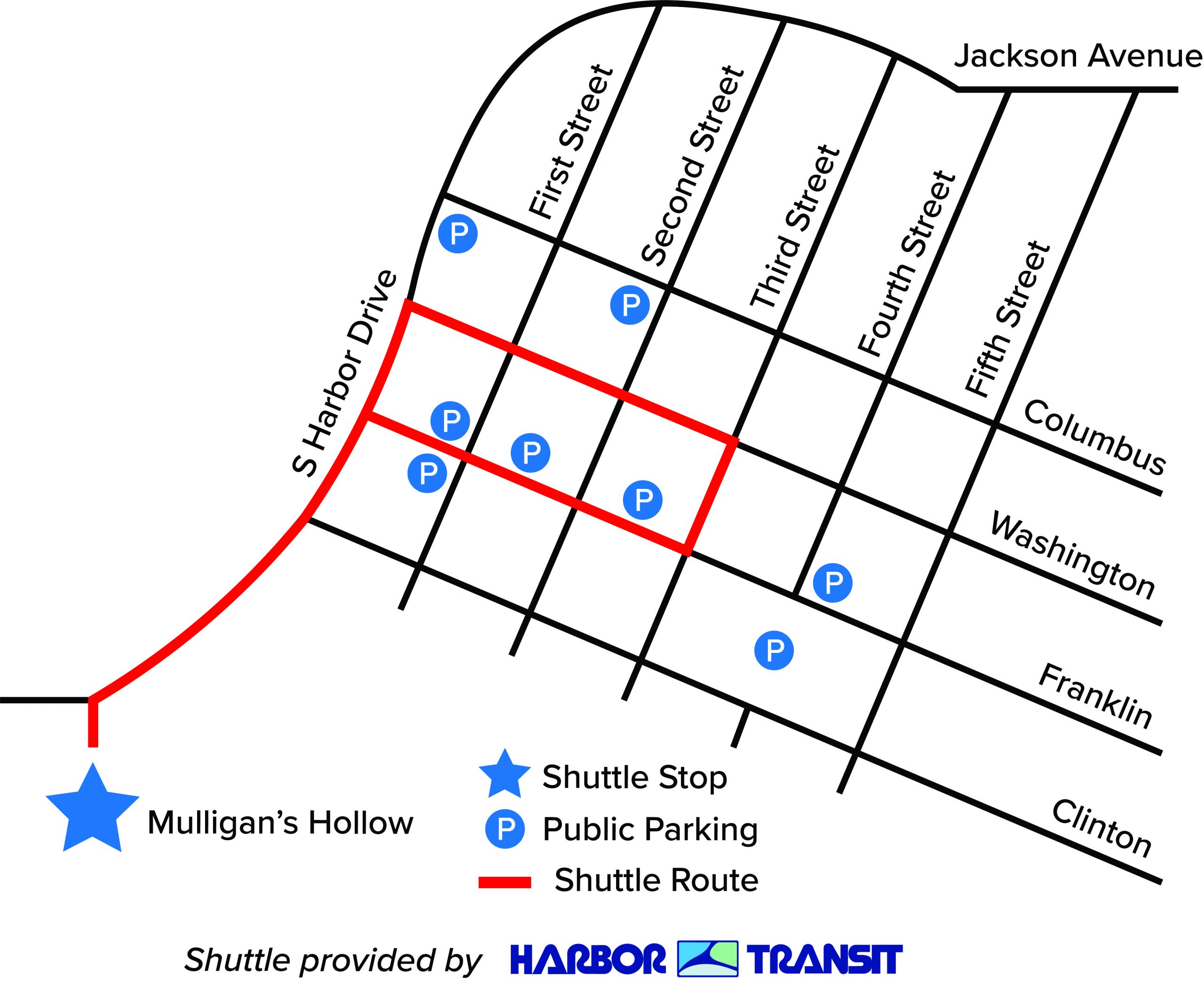 Hotels, Motels, Resorts, and Suites
Holiday Inn
616.846.1000
940 W. Savidge
Spring Lake, MI 49456
higrandhaven.com
Baymont Inn
616.842.1999
1500 S. Beacon Blvd.
Grand Haven, MI 49417
Best Western Beacon Inn
616.842.4720
1525 S. Beacon Blvd.
Grand Haven, MI 49417
bestwestern.com/beaconinn
Blue Water Inn & Suites
616.846.7431
1030 Harbor Dr.
Grand Haven, MI 49417
bluewaterinngrandhaven.com
Rodeway Inn – Grand Haven
616.846.1800
1010 S. Beach Blvd.
Grand Haven, MI 49417
rodewayinn.com
Rodeway Inn – Coopersville
616.837.8100
1040 O'Malley Dr.
Coopersville, MI 49404
rodewayinn.com
Sleep Inn and Suites
616.892.8000
4869 Becker Dr.
Allendale, MI 49401
sleepinnallendale.com
Inns, Vacation Rentals, and Bed & Breakfasts
Lake Michigan Cottages
616.772.5007
Grand Haven, MI 49417
lakem.com
Boyden House Bed & Breakfast
616.846.3538
301 S. Fifth St.
Grand Haven, MI 49417
boydenhouse.com
Harbor House Inn
616.846.0610
114 S. Harbor Dr.
Grand Haven, MI 49417
harborhousegh.com
Looking Glass Beachfront Inn
616.842.7150
1100 Harbor Dr.
Grand Haven, MI 49417
lookingglassinnmi.com
Pigeon Creek Inn
616.836.4088
West Olive Area
pigeoncreekinn.com
Washington Street Inn
616.842.1075
608 Washington St.
Grand Haven, MI 49417
bbonline.com/mi/washinn